Name of God
Adonai
"Lord, Master"
Adonai, which is plural word, is derived from the singular Adon which means "Lord". In the Bible, this plural form is only used for God. This term was pronounced in substitution of YHWH. Jewish tradition considered God's Covenant Name too sacred to be uttered, therefore Adonai was used instead.
When this Name of God, "Lord", is translated in the English Bible, it is spelled with a capital letter "L" and the rest of the letters ("ord") are in lower case. Additionally, Adonai is used when God is seen dealing with the Gentiles. 
The singular form, Adon, is used in the Bible as a title for royalty, an important person, or an angel. In that case, it is spelled using all lower case (lord).
In reference to God, Adonai appears at least 300 times in the Old Testament. This word is found in Exodus 4:10; Judges 6:15; 2 Samuel 7:18-20; Psalm 8, 114:7, 135:5, 141:8, 109:21-28. Isaiah frequently uses the Name Adonai Jehovah. Ezekiel uses Adonai 200 times. Additionally, this Name appears 10 times in the Book of Daniel. 
Application: God is the Master and majestic Lord. God is our total Authority.
Scripture of Adonai
NLT:
I said to the Lord, "You are my Master! Every good thing I have comes from you."


NOG:
I said to Yahweh, "You are my Adonai. Without you, I have nothing good."
Prayer to Adonai
"

Adonai, Your Name is Holy. Your Name is above all names. You are Holy and above and beyond all creation. 

I am awestruck and at a loss for words as I consider Your Holiness. I am filled with wonder and amazement as I see Your Power and Handiwork in creation.

My sin and failings are in stark contrast to Your Holiness, and I see my need for forgiveness and my need of a Savior. I am amazed that You, Adonai, in Your Grace, made a way for forgiveness and a way for me to come to You through Jesus.

Adonai, I am thankful. Amen"
Prayer Channel Video "Adonai"
Posted on YouTube, 

Jul 19, 2021

, by The Prayer Channel
Listen to the song "Adonai", by Paul Wilbur
Posted on Youtube, Mar 12, 2019
Download/Print CBJ's "Adonai Printable"
Ready to color and use as a tip-in, in your bible, as seen above. Drawn by Jill Briscoe.
Courtesies ~ Credits ~ Fine Print
The "Many Names of God" Blog (aka NOG Blog) is provided by Creative Bible Journaling, specifically as a tool for members to enhance their bible knowledge and their journaling experience. Research was accomplished by Joan Fudala, with the use of 27 different resources, both online and physical. The traced images she used throughout this blog are from the adult coloring book, "Color the Names of God", with artwork by Marie Michaels. All content was compiled and formatted by Susan Stump and Lorraine Szontagh. The black and white printables were drawn by Jill Briscoe. Any videos will be courtesied who/when/where posted.
We have done our best to provide accurate information, but translations, meanings and variety of resources may occasionally disagree. CBJ takes no responsibility for inaccurate information found on the internet. No monies have been exchanged for A) use of anyone's intellectual content and/or B) viewing any content/blog posts on the CBJ website.
If you or your church are interested in ordering from Christianbook.com, please click on any of these ads to be directed to their site. Any purchases, while there, will give CBJ an 8% bonus, at no extra cost to you. This will help fund the CBJ ministry.    Thank you ~ Susan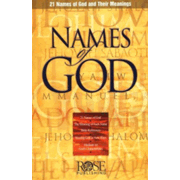 Names of God, Pamphlet
By Rose Publishing

This chart shows 21 Old Testament names of God, gives the definition, and scripture. Full-color glossy, 12-panels. Folded 8.5"x5.5", Fits inside most Bibles, unfolds to 8.5"x33".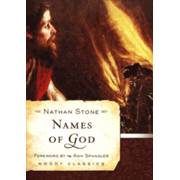 Names of God, Book
Nathan Stone, Moody Publishing

God's many names reveal different dimensions of his character. Working through the Old Testament, 144 pages.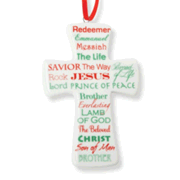 Names Of Jesus
Ceramic Cross Ornament

Jesus, Redeemer, Emmanuel, Messiah, The Life, The Way, Savior, Bread of Life, Rock, Lord, Prince of Peace, Brother, Everlasting, Lamb of God, The Beloved , Christ, Son of Man, Brother.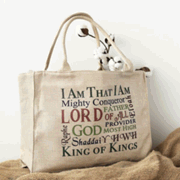 Names of God Tote Bag
By Holy Land Gifts

Roomy and stylish tote bag, Names of God pattern. Designer style collage on neutral background, Sturdy, rolled handles, Inspired fashion, contemporary look, 16"x12.5"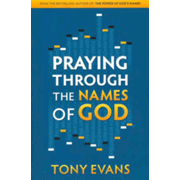 Praying Through the Names of God
Soft Cover, Tony Evans

Evans shows how to revitalize your prayer life by connecting your needs to a specific divine characteristic. 144 pages