Name of God
El Shaddai
"God Almighty"
The name "Shaddai" is related to the Hebrew word "shadad" which means "to overpower or destroy" and refers to God's absolute Power. Used together with the Hebrew word El, El Shaddai is usually translated, "Lord God Almighty". El Shaddai describes God as the one who triumphs over every obstacle and all opposition. God is our all-powerful and all-sufficient sustainer. 
The Name of God El Shaddai occurs 48 times in the Bible, including Genesis 49:24; Ruth 1:20,21; Psalm 132:2, 5; Proverbs 3:27; Isaiah 60:15; Micah 2:1; Revelation 16:7.
Application: God Almighty, God All Sufficient, The Mighty One of Jacob is the Source of all our blessings. God is all-powerful. He is our Sustainer. Our problems are not too big for God to handle.
Susan Stump recalls the first time she heard the words "El Shaddai" spoken, from song writer and Christian Singer, Amy Grant, in 1982. Here are the lyrics of the chorus of her song "El Shaddai"…
El shaddai, el shaddai,

El-elyon na adonia,

Age to age you're still the same,

By the power of the name.

El shaddai, el shaddai,

Erkamka na adonai,

We will praise and lift you high,

El shaddai.
Scripture for El Shaddai
Genesis 17:1
ESV: "When Abram was ninety-nine years old the Lord appeared to Abram and said to him, "I am God Almighty; walk before me, and be blameless,"


NOG: "When Abram was 99 years old, Yahweh appeared to him. He said to Abram, "I am El Shaddai. Live in my presence with integrity."
Prayer to El Shaddai
"El Shaddai, I am so easily consumed with fears. I worry about the future, I worry about today, I worry about how my sins and mistakes in the past have affected others. I know that I am weak, but I know that You are all-powerful. My human mind struggles to comprehend that fact.

I see power in many things, people, even emotions. Strong is a word I can define. But as I think about the powers in my sphere of reference, I realize they are not all-powerful. Some can be overcome, controlled, or even conquered by human effort and knowledge. You, El Shaddai, are more powerful than any of these forces. You are over them, You created them.

All-Powerful Sustainer, please strengthen me for what I must deal with. Help me to remember that You, El Shaddai, are triumphant over all. As is written in Psalm 56, '

When I am afraid, 

I put my trust in you.'
Learn more of  "El Shaddai" in this animated video!
Posted on YouTube,  August 21, 2020, by Pastor Landon
Listen to the song "El Shaddai", by Kids In Tune
Posted on Youtube, Feb 16, 2017
Download/Print CBJ's "El Shaddai Printable"
Ready to color and use as a tip-in, in your bible, as seen above. Drawn by Jill Briscoe.
Courtesies ~ Credits ~ Fine Print
The "Many Names of God" Blog (aka NOG Blog) is provided by Creative Bible Journaling, specifically as a tool for members to enhance their bible knowledge and their journaling experience. Research was accomplished by Joan Fudala, with the use of 27 different resources, both online and physical. The traced images she used throughout this blog are from the adult coloring book, "Color the Names of God", with artwork by Marie Michaels. All content was compiled and formatted by Susan Stump and Lorraine Szontagh. The black and white printables were drawn by Jill Briscoe. Any videos will be courtesied who/when/where posted.
We have done our best to provide accurate information, but translations, meanings and variety of resources may occasionally disagree. CBJ takes no responsibility for inaccurate information found on the internet. No monies have been exchanged for A) use of anyone's intellectual content and/or B) viewing any content/blog posts on the CBJ website.
If you or your church are interested in ordering from Christianbook.com, please click on any of these ads to be directed to their site. Any purchases, while there, will give CBJ an 8% bonus, at no extra cost to you. This will help fund the CBJ ministry.    Thank you ~ Susan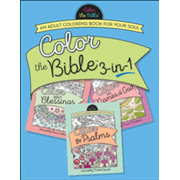 Color the Bible 3-in-1: An Adult Coloring Book for Your Soul
Harvest House Publishers

3-in-1 coloring book featuring soothing drawings from Color the Psalms, Color Your Blessings, and Color the Names of God. 120 pages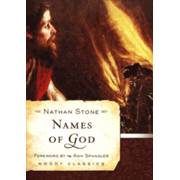 Names of God, Book
Nathan Stone / Moody

God's many names reveal not only different dimensions of his character but also point to their fulfillment in the person of Jesus Christ. Working through the Old Testament, 144 pages.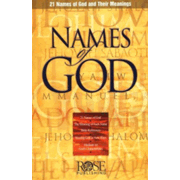 Names of God, Pamphlet
By Rose Publishing

This chart shows 21 Old Testament names of God, gives the definition, and scripture. Full-color glossy, 12-panels. Folded 8.5"x5.5", Fits inside most Bibles, unfolds to 8.5"x33".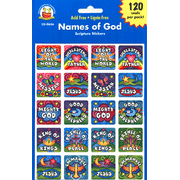 120 Self-Adhesive Names of God Stickers
By Carson-Dellosa Publishing

120 Self-Adhesive Scripture stickers are acid and lignin free. Six sheets of stickers with ten different designs. Each sticker measures 1" x 1".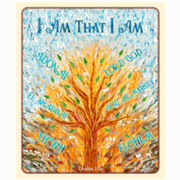 I Am That I Am: Burning Bush Blanket
By Holy Land Gifts

Soft blanket that depicts the famous burning bush that was not consumed in the desert, Flames highlight a few of the Names of God, I AM that I AM, 60" x 48"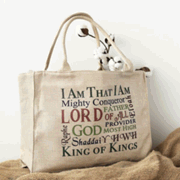 Names of God Tote Bag
By Holy Land Gifts

Roomy and stylish tote bag, Names of God pattern design, Designer style collage on neutral background, Sturdy, rolled handles, Inspired fashion, contemporary look, 16"x12.5"