Name of God
Jehovah Jireh
"The Lord Will Provide"
Jehovah Jireh or Yahweh Yireh is the name memorialized by Abraham when God provided the ram to be sacrificed in place of Isaac. This account is found in Genesis chapter 22. In verse 2, we read what God had instructed Abraham: He said, 'Take your son, your only son Isaac, whom you love, and go to the land of Moriah, and offer him there as a burnt offering on one of the mountains of which I shall tell you.'"
Without reservation, Abraham, trusting God and His Plan, set out to do as he was told. Isaac noticed that they carried no animal to sacrifice. Never doubting, Abraham explained in verse 8: Abraham answered, "Elohim will provide a lamb for the burnt offering, Son." Continuing to read the account brings us to verse 13 and we see what happened: "And Abraham lifted up his eyes and looked, and behold, behind him was a ram, caught in a thicket by his horns. And Abraham went and took the ram and offered it up as a burnt offering instead of his son."
 Abraham called the mountain Jehovah-Jireh as a memorial to this event. It is interesting to note that this mountain, Moriah, was where Solomon's temple was built and today is known as Temple Mount. 
The Hebrew Jireh means "to see" or "to provide". God always provides adequately when the time comes. Many Bible passages elaborate on this aspect of God's character—that He loves to bless us and provide for our needs (Psalms 65:9-13; 107:9; 145:16; Matthew 6:26; Philippians 4:19; James 1:17).
Application: Just as God provided a ram as substitute for Isaac, He provided His son Jesus as the ultimate sacrifice. God will meet all our needs. 
Scripture with Jehovah Jireh
Genesis 22:14
ESV: So Abraham called the name of that place, "The Lord will provide";as it is said to this day, "On the mount of the Lord it shall be provided.

NOG: Abraham named that place Yahweh Yireh. It is still said today, "On the mountain of Yahweh it will be provided."

Prayer to Jehovah Jireh
"Jehovah Jireh, so many worries overtake me. I want to know what will happen, what I should do, what I should not do, how my needs will be met, if what I think I need is really a 'want'. Help me to remember that You not only see my needs, You will provide them. Help me to wait and trust patiently.

Thank You for providing for me thus far. Thank You for being with me even when it seems I am in a whirlpool of problems. You provided for my salvation, I know You will provide for my daily needs.
Thank you, Amen"
Jehovah-Jireh, My Provider; His Grace is Sufficient
Posted on YouTube Apr 16, 2017 by Divine Hymns
Names of God in the Bible – Jehovah Jireh
Posted on YouTube Sep 11, 2020 by Pastor Landon
Download/Print CBJ's "Jehovah Jireh Printable"
Ready to color and use as a tip-in, in your bible, as seen above. Drawn by Jill Briscoe.
Courtesies ~ Credits ~ Fine Print
The "Many Names of God" Blog (aka NOG Blog) is provided by Creative Bible Journaling, specifically as a tool for members to enhance their bible knowledge and their journaling experience. Research was accomplished by Joan Fudala, with the use of 27 different resources, both online and physical. The traced images she used throughout this blog are from the adult coloring book, "Color the Names of God", with artwork by Marie Michaels.
All content was compiled and formatted by Susan Stump and Lorraine Szontagh. The black and white printables were drawn by Jill Briscoe. Any videos will be courtesied who/when/where posted.
We have done our best to provide accurate information, but translations, meanings and variety of resources may occasionally disagree. CBJ takes no responsibility for inaccurate information found on the internet. No monies have been exchanged for A) use of anyone's intellectual content and/or B) viewing any content/blog posts on the CBJ website.
If you or your church are interested in ordering from Christianbook.com, please click on any of these ads to be directed to their site. Any purchases, while there, will give CBJ an 8% bonus, at no extra cost to you. This will help fund the CBJ ministry.    Thank you ~ Susan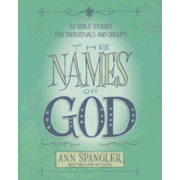 The Names of God
By Ann Spangler

A 52-week workbook study focusing on the names of God and Jesus. Provides background information, key Scriptures, questions, and a brief list of passages for further study.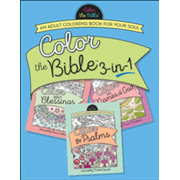 Color the Bible 3-in-1: An Adult Coloring Book for Your Soul
Harvest House Publishers

3-in-1 coloring book featuring soothing drawings from Color the Psalms, Color Your Blessings, and Color the Names of God. 120 pages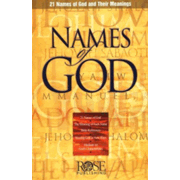 Names of God, Pamphlet
By Rose Publishing

This chart shows 21 Old Testament names of God, gives the definition, and scripture. Full-color glossy, 12-panels. Folded 8.5"x5.5", Fits inside most Bibles, unfolds to 8.5"x33".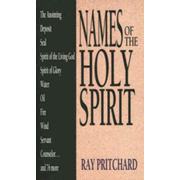 Names of the Holy Spirit
Ray Pritchard / Moody

This book follows Names of Christ in a trilogy designed to help Christians better understand the glory and power of the triune God. A devotional study of the Holy Spirit.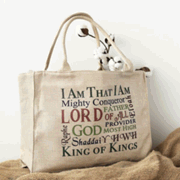 Names of God Tote Bag
By Holy Land Gifts

Roomy and stylish tote bag, Names of God pattern design, Designer style collage on neutral background, Sturdy, rolled handles, Inspired fashion, contemporary look, 16"x12.5"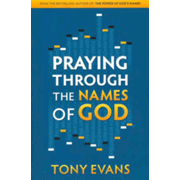 Praying Through the Names of God
Soft Cover, Tony Evans

Evans shows how to revitalize your prayer life by connecting your needs to a specific divine characteristic. 144 pages