Name of God
Jehovah-Shalom
"The LORD our Peace"
The name Jehovah-Shalom was given by the Israelite judge, Gideon, to an altar he built. At this point in time, the Israelites were living in constant fear because an enemy from the east, the Midianites, had invaded the land and were plundering and wreaking havoc. The lives of Gideon and his people were in turmoil. Because of fear, Gideon decided to thresh his wheat at night under cover of darkness. His anxiety was so intense that he wasn't even using his threshing floor. Rather, he was threshing his wheat in secret near his wine press.
Suddenly the Angel of the Lord appeared! Gideon's immediate response was to ask questions about why turmoil and terror were happening. The Angel answered by telling him that he, Gideon, was to go and rescue his people. Not seeing himself as qualified, Gideon had questions and fear. He asked the Angel for a miracle. This account of how the Angel showed Gideon who He was by consuming Gideon's offering is found in the Old Testament book of Judges. New fear struck Gideon because he thought he would die after seeing the Angel. But the Angel of the Lord assured him that he would not die as he had thought he would after seeing Him. In response, Gideon name the altar on which he had placed the offering "Jehovah-Shalom".
Shalom is a derivative of the Hebrew shâlêm which means "be complete" or "sound". Shalom is translated as "peace", "harmony", "wholeness", "completeness", "prosperity", "welfare" and "tranquility". In the Bible, Shalom is translated "peace" 170 times.
Application: Biblically, Shalom means that kind of peace that results from being a whole person in right relationship to God and to one's fellow man. God defeats our enemies to bring us peace. Jesus is our Prince of Peace. God brings inner peace and harmony.
Scripture of Jehovah-Shalom
Judges 6:24
NLT:"And Gideon built an altar to the Lord there and named it Yahweh-Shalom (which means "the Lord is peace"). The altar remains in Ophrah in the land of the clan of Abiezer to this day.
NOG: "So Gideon built an altar there to Yahweh. He called it Yahweh Shalom. To this day it is still in Ophrah, which belongs to Abiezer's family."
Prayer to Jehovah-Shalom
"Jehovah-Shalom, how I long for peace. People all over the earth long for peace. It is a hunger that cannot be satisfied by what the world offers. Quiet comes now and then, but still we are in turmoil inside and out.


Jesus, our Prince of Peace, made the way for us to have peace with You. That peace, that Shalom, is a light that is not darkened by the trials, struggles, or evil around me. My sin shakes my peace, but You, Jehovah-Shalom forgive, cleanse and restore my enjoyment of that peace.
Amen"
Listen to the song "Jehovah-Shalom" by Shannon Wexelberg
Posted on Youtube, April 1, 2020
Jehovah-Shalom: Names of God Series
Posted on YouTube, 

Julj 23, 2013

, by Grace Media
Download/Print CBJ's "Jehovah Shalom Printable"
Ready to color and use as a tip-in, in your bible, as seen above. Drawn by Jill Briscoe.
Courtesies ~ Credits ~ Fine Print
The "Many Names of God" Blog (aka NOG Blog) is provided by Creative Bible Journaling, specifically as a tool for members to enhance their bible knowledge and their journaling experience. Research was accomplished by Joan Fudala, with the use of 27 different resources, both online and physical. The traced images she used throughout this blog are from the adult coloring book, "Color the Names of God", with artwork by Marie Michaels. All content was compiled and formatted by Susan Stump and Lorraine Szontagh. The black and white printables were drawn by Jill Briscoe. Any videos will be courtesied who/when/where posted.
We have done our best to provide accurate information, but translations, meanings and variety of resources may occasionally disagree. CBJ takes no responsibility for inaccurate information found on the internet. No monies have been exchanged for A) use of anyone's intellectual content and/or B) viewing any content/blog posts on the CBJ website.
If you or your church are interested in ordering from Christianbook.com, please click on any of these ads to be directed to their site. Any purchases, while there, will give CBJ an 8% bonus, at no extra cost to you. This will help fund the CBJ ministry.    Thank you ~ Susan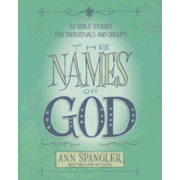 The Names of God
By Ann Spangler

A 52-week workbook study focusing on the names of God and Jesus. Provides background information, key Scriptures, questions, and a brief list of passages for further study.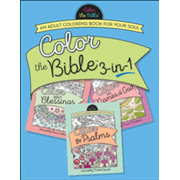 Color the Bible 3-in-1: An Adult Coloring Book for Your Soul
Harvest House Publishers

3-in-1 coloring book featuring soothing drawings from Color the Psalms, Color Your Blessings, and Color the Names of God. 120 pages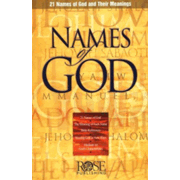 Names of God, Pamphlet
By Rose Publishing

This chart shows 21 Old Testament names of God, gives the definition, and scripture. Full-color glossy, 12-panels. Folded 8.5"x5.5", Fits inside most Bibles, unfolds to 8.5"x33".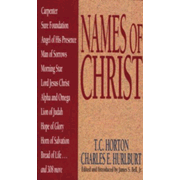 Names of Christ
by James Stuart Bell

Get a better grasp on these thought provoking names with this excellent topical series. This book examines the names of Christ, over 300 in all, revealing an intimate portrait of the Savior.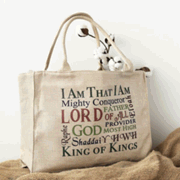 Names of God Tote Bag
By Holy Land Gifts

Roomy and stylish tote bag, Names of God pattern design, Designer style collage on neutral background, Sturdy, rolled handles, Inspired fashion, contemporary look, 16"x12.5"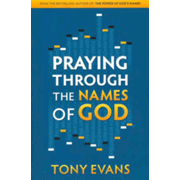 Praying Through the Names of God
Soft Cover, Tony Evans

Evans shows how to revitalize your prayer life by connecting your needs to a specific divine characteristic. 144 pages