Welcome to the CBJ program: "The Book of..."  series!
This series will give you the wide variety of Creative Bible Journaling's activities for each book of the bible, rolled out one book at a time. Simply click on the "Books of Bible" drop down menu bar to make your selection.  And then click on the rectangular "Enter Activity" button below each project to go directly to its web page. You will find full instructions, examples and download printables for these specific projects.
No membership is necessary to view any and all projects here on the CBJ website. If you find you can't open a link, please email susan at susan@creative-bible-journaling.com and she will fix the link for you.
Activities for Leviticus
VideoBook by Ivy Brog
Art Collection Coloring Page
Clip Art Elements by Jackie
Lettering Lesson by Debbie
Drawing Lesson by Debbie
Hymnal Journaling
FB Member Photo Album
Art Collection
Coloring Page
DEUTERONOMY
Released Feb 1, 2021
Clip Art
Elements
DEUTERONOMY
Released Feb 1, 2021
Lettering Lesson
Teaching" Font
DEUTERONOMY
Released Feb 1, 2021
Drawing Lesson
"Mighty Mountains"
DEUTERONOMY
Released Feb 1, 2021
Hymn & History
"God Will
Take Care of You"
DEUTERONOMY,
Released Feb 1, 2021
CBJ Member
Photo Album
DEUTERONOMY
Facebook Private Group
If you aren't a member yet,
simply request to join
Shop with CBJ and Christianbook - Just click on any of the links below.
If you or your church are interested in ordering from Christianbook.com, please click on any of these ads to be directed to their site. Any purchases, while there, will give CBJ an 8% bonus, at no extra cost to you. This will help fund the CBJ ministry.    Thank you ~ Susan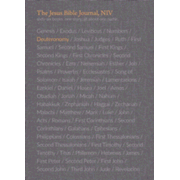 NIV The Jesus Bible Journal, Comfort Print, Deuteronomy
By Louie Giglio / Zondervan

Lined journaling space on every other page. Study features and articles from the book of Deuteronomy taken from The Jesus Bible. Thicker cream paper, Single-column format, 9.5-pt type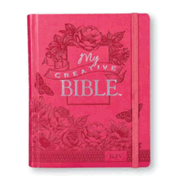 KJV My Creative Bible, Pink Floral LuxLeather Cover
By Christian Art Gifts

Nearly 400 full or partial page scripture illustrations for coloring, Beautiful printed page-edges, Elastic band closure, single-column, 2-inch ruled margins, cream bible paper, 8-pt type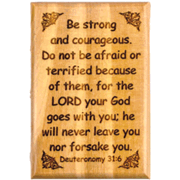 Strong & Courageous
Fridge Magnet
By Logos Trading Post

Faith Magnet: "Be strong and courageous. Do not be afraid or terrified because of them, for the Lord your God goes with you; he will never leave you nor forsake you." Deuteronomy 31:6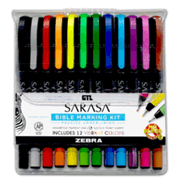 Zebra Sarasa Bible Marking Kit, 12 Pens
By G.T. Luscombe Company

12 vibrant colors perfect for inductive study, Bible journaling, coloring, and bullet journaling. Needle point tip allows for easy ink flow, pigmented ink won't bleed through.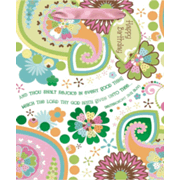 Gift Bag, Medium
Deuteronomy 26:11
By Papercraft



All occasion gift bag will make any gift special! Scripture: "And Thou Shalt Rejoice in every good Thing Which The Lord Thy God Hath given Unto Thee" Deuteronomy 26:11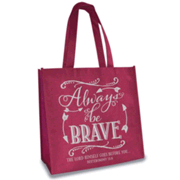 Always Be Brave, Tote Bag
By Divinity Boutique



Lightweight, eco-friendly tote bag holds up to 20 pounds; perfect for bible journaling supplies, groceries or any everyday use.
"Always be Brave, The Lord Himself Goes Before You" Deuteronomy 31:8