The "Many Names of God" Blog
You have landed on the Landing Page for the "Many Names of God" Blog. During the course of the year, Joan Fudala will share what she has discovered during her Names of God research, in blog posts here. We have also sprinkled a variety of fun on each blog post, so don't miss out, come back often to see which names have been added. Simply click on the
"read   more"

  links UNDER the "BLOG POSTS" HEADER below. Each name reveals something about God's character. Enjoy!
Introduction
"Written by Joan Fudala"
Names are important to us. In fact, it can be the most important word to a person. A name identifies a person and sets him or her apart as an individual. Parents study, discuss, analyze, and often labor when naming their children. Naming a dog, cat, or other pet requires thought as well. Names are important.   
In ancient Jewish culture, the culture of the Bible, names did more than distinguish one person from another. Names represented character attributes. They were sometimes prophetic. Some names told a story. Often decided by the mother, a child's name was very significant.
The Holy Bible contains many Names of God.  We learn much about God as we learn His Names. Truly, it is essential to know God's Name. The Bible tells us that as His children,  we bear that Name, His Name. We are commanded to live in such a way that will bring It honor. As we come to know the significance of each Name, we will learn more about God and we will enhance the breadth of our ability to praise God and to live in His protection, and strength. 
Blog posts will be coming out throughout the year. Each Name will help you know more about God and His Nature. We pray that these verses and information will help you come to know Him in a far more personal and intimate way.  
"Through this study, I have come to learn more of the attributes and character of God.  As I have grown to understand the very nature and character of God, I find myself running to His Name to find safety and strength. His name is like a strong tower! I have found that the more I know Him, the more I trust Him.  Now I want to know Him more!"
Learn more from "What are the different names of God"
Posted by Got Questions Ministries on Youtube, Sept. 7, 2017
Listen to "The Names of God" set to music
Posted by Jason Denison on Youtube, Feb. 12, 2018
We have many activities on our website, one of which is our Scripture Writing Plan. Joan Fudala has expanded our Scripture Writing Plan this year to include many verses which highlight various Names for God/Jesus. Each month has a printable plan highlighting one verse per day. We also provide free hand-drawn stationery you may download, print and use as you wish. You can join with Joan in writing the daily scripture by clicking HERE .
Blog Posts
(click "r e a d  m o r e" on the blog card you want to visit)
No Results Found
The page you requested could not be found. Try refining your search, or use the navigation above to locate the post.
Courtesies ~ Credits ~ Fine Print
The "Many Names of God" Blog (aka NOG Blog) is provided by Creative Bible Journaling, specifically as a tool for members to enhance their bible knowledge and their journaling experience. Research was accomplished by Joan Fudala, with the use of 27 different resources, both online and physical. The traced images she used throughout this blog are from the adult coloring book, "Color the Names of God", with artwork by Marie Michaels. All content was compiled and formatted by Susan Stump and Lorraine Szontagh. The black and white printables were drawn by Jill Briscoe and Jackie Mattingly. Any videos will be courtesied when/where posted.
We have done our best to provide accurate information, but translations, meanings and variety of resources may occasionally disagree. CBJ takes no responsibility for inaccurate information found on the internet.  No monies have been exchanged for A) use of anyone's intellectual content and/or B) viewing any content/blog posts on the CBJ website.
If you or your church are interested in ordering from Christianbook.com, please click on any of these ads to be directed to their site. Any purchases, while there, will give CBJ an 8% bonus, at no extra cost to you. This will help fund the CBJ ministry, here on the web.    Thank you ~ Susan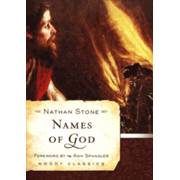 Names of God, Book
Nathan Stone / Moody

God's many names reveal not only different dimensions of his character but also point to their fulfillment in the person of Jesus Christ. Working through the Old Testament, 144 pages.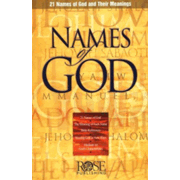 Names of God, Pamphlet
By Rose Publishing

This chart shows 21 Old Testament names of God, gives the definition and scripture. This full-color glossy, 12-panel pamphlet is 8.5"x5.5". Fits inside most Bible covers. Unfolds to 33"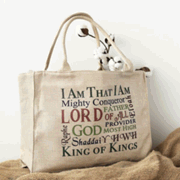 Names of God Tote Bag
By Holy Land Gifts

Roomy and stylish tote bag, Names of God pattern design, Designer style collage on neutral background, Sturdy, rolled handles, Inspired fashion, contemporary look, 16" x 12.5"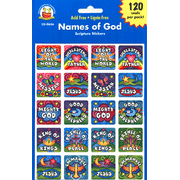 120 Self-Adhesive Names of God Stickers
By Carson-Dellosa Publishing LLC

120 Self-Adhesive Scripture stickers are acid and lignin free. Six sheets of stickers with ten different designs. Each sticker measures 1" x 1".
Get Inspired ~ Be Involved
Become a CREATE Member
Look Below for the options ⤵️
CREATE "Sampler" Membership*
*Genesis & Matthew Activities
SAMPLE ACCESS to Genesis&Matthew (Activities in

green

type)

Lettering & Drawing Lessons

Clip Art Elements & Coloring Collections

"VideoBook of…" Series

Hymn & History HymnalJournaling

—————-

ALL 12 MONTHS OF

Scripture Writing & VerseMapping

"Names Of God" Blog

Download Printables

Live Video Tutorials
CREATE "Full Access" Monthly Membership*
All Books... using the "Cover to Cover, One Book at a Time" Schedule
FULL ACCESS TO ALL ACTIVITIES

*

Lettering Lessons & Drawing Lessons

Clip Art Elements & Coloring Collection

Scripture Writing & Verse Mapping

"VideoBook of…" Series

Hymn & History Hymnal Journaling

*

"Names of God" Blog

Download Printables

Live Video Streaming

Tutorials & Classes & Product Reviews

Full Access to Exclusive Clip Art Gallery
Full Access "Yearly" Membership
Full Access for a Full Year!
Full Access Membership for a full year!
Private Facebook Group
Meet Friends & Share Art
Get Involved & Be Inspired!