Bible Journaling Bibles & Supplies
Plus a whole lot more!
CBJ DEVOTIONAL BOOK  Department
Browse through the Devo selection here,
or go inside the shop for all they offer.
Just click black button below!
CBJ is an affiliate with the widely popular Christianbook.com online Shop. You may click any of the teal green links in the ad boxes here in the CBJ site to enter their website and shop there like normal. At no extra cost to you, CBJ will earn an Affiliate Bonus of 8% of your non-clearance purchases, if you check out within 24 hours from entering. We thank you for your support. 
$11.99 as of 10/5/2020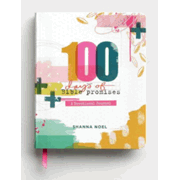 100 Days of Bible Promises: A Devotional Journal
By Shanna Noel / Dayspring In her devotional journal,
100 Days of Bible Promises
, author Shanna Noel prompts you to dive into God's unwavering truth, with topics such as freedom, comfort, grace, and gratitude. For 100 days, you'll receive a featured Scripture, devotion, prayer, along with space for doodling, journaling, writing notes, or any other forms of creative expression. Take time to listen to the whispering voice of God, pray and reflect on His steadfast promises and allow Him to change your life. God's promises are power for living! Soft touch flexible latex board; notebook binding; 208 pages
Do you have a 2020 Membership yet?
"Sampler" Membership lets you sample the activities!
"Full Access" Membership gives you access to all that we offer!
CREATE "Sampler" Membership
Sample each type of activity*
Sample both 

Genesis & Matthew of each activity, free of charge.

Like a free test run before you buy!
CREATE "Full Access" Monthly Membership
Full Access to all projects and printables
FULL ACCESS TO ALL ACTIVITIES…

ONLY $16 per month

*

Lettering Lessons & Drawing Lessons

*

Clip Art Elements & Coloring Art Collection

*

Scripture Writing & Verse Mapping

*

"VideoBook of…" Series in the CBJ Theater

*

Hymn and History Hymnal Journaling

*

Download Printables

Live Video Streaming

Tutorials & Classes & Product Reviews
CREATE Full Access "Yearly" Membership
Full Access for a Full Year!
Full Access Membership for a full year!
Private FB Group
Get Involved ~ Be Inspired
Get Involved and Be Inspired